Amy Fautsch Wins Crawford North Cooldown Giveaway
September 11, 2018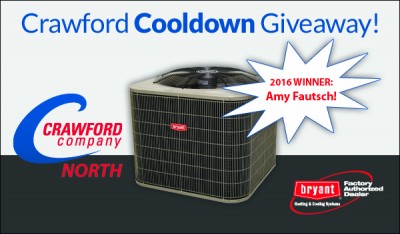 DUBUQUE, IA - Crawford Company North, with our co-sponsors Townsquare Media and Bryant Heating & Cooling, are thrilled to announce the winner of our Summer Cooldown 2016 contest – a prize package valued at up to $3,500.00.
From over 500 entries, Amy Fautsch of Dubuque was randomly selected as the Grand Prize Winner!
Amy's prize includes the Bryant Legacy Central Air Conditioning unit, Professional installation by Crawford North Certified Technicians and removal of her existing equipment.
Amy's response when she heard the good news – "We are Beyond Happy!"
The contest was open to any homeowner within 40 miles of Crawford North's Dubuque location on Highway 20. Entries were made through both the Crawford North website and Facebook pages from May 16th through Friday, June 17th. The winner will be announced today – the first day of Summer – on the Townsquare Media radio stations.
Crawford Company North, located at 14407 US Highway West in Dubuque, has been serving the Greater Dubuque area since 2013. With our home office in Rock Island, Crawford continues their legacy of quality workmanship and outstanding customer service that has made them a household name since the 1950's.
Bryant Heating & Cooling made the Cooldown Contest possible by their generous donation of the Legacy Unit.
Townsquare Media promoted the contest across all 5 of their stations - KLYV-FM/WJOD-FM/KXGE-FM/Q107-FM/WDBQ-AM – providing widespread exposure and boosting the participation to over 500 entrants.
Our thanks to everyone that participated!