Crawford Company Announces Top Three Finalists for 2016 Crawford Cares
September 11, 2018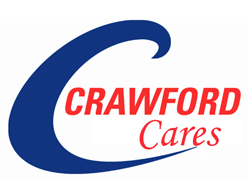 DUBUQUE, IA - Crawford North, a division of Crawford Company, will award $2,250 to three finalists for the 2016 Crawford Cares Program. Congratulations to finalists: Loras College Dance Marathon, Research for the Kids and Special Spaces Dubuque. The voting showed a trend to support nonprofits that benefit children in the community and surrounding area. These three nonprofit organizations moved onto a review committee, comprised of Dubuque residents who will decide 1st, 2nd, and 3rd place winners.
The overall winner and finalists will be announced at the Crawford Cares Awards Ceremony to be held at 2:30 pm Tuesday, December 6th at Crawford North (14407 Highway 20, Dubuque, IA). Crawford will contribute $1,500 to the 1st place winner, $500 to 2nd place and $250 to 3rd place.
To be eligible, the nominees had to be Dubuque 501(c)3 organizations and nominated by a local resident. All nominees had to serve local causes for the purpose of having a positive impact on the region. The organizations were also required to demonstrate they were mission focused and operating on limited resources.
Crawford Company would like to recognize the following nonprofits for participating in the Crawford Cares Program.
A Walk on the Wild Side
Ainsley's Angels of Eastern Iowa
Aquinas Communications
Area Residential Care
ARK Advocates
Asbury Area Civic & Recreation Foundation
Bell Tower Theater
Bethany Home
CAPABLE Volunteer Company
Crescent Community Health Center
Dubuque Area Labor-Management Council
Dubuque Area Youth Baseball and Softball Club
Dubuque Arts Council
Dubuque County Fair Association
Dubuque County Right to Life
Dubuque Food Pantry
Dubuque Visiting Nurse Association
Dubuque Youth Wrestling Club
East Dubuque Fire Department
Eastern Iowa Horse and Pony Camp
Hazel Green Gymnastics Club
Heritage Works
JoDaviess County Longbeards
Junior Achievement
La Salle Catholic School
Linwood Cemetery Association
Loras College Dance Marathon
Mary's Inn Maternity Home
Michael W. Oglesby Foundation
Miracle League of Dubuque
Opening Doors- Maria House and Teresa Shelter
New View Community Action Agency
Research for the Kids
Riverview Center
Special Spaces Dubuque
St. Mark Youth Enrichment
St. Stephen's Food Bank
Stonehill Franciscan Services