Peosta Elementary Parent Group Recognized as 2021 Crawford Cares Winner
December 1, 2021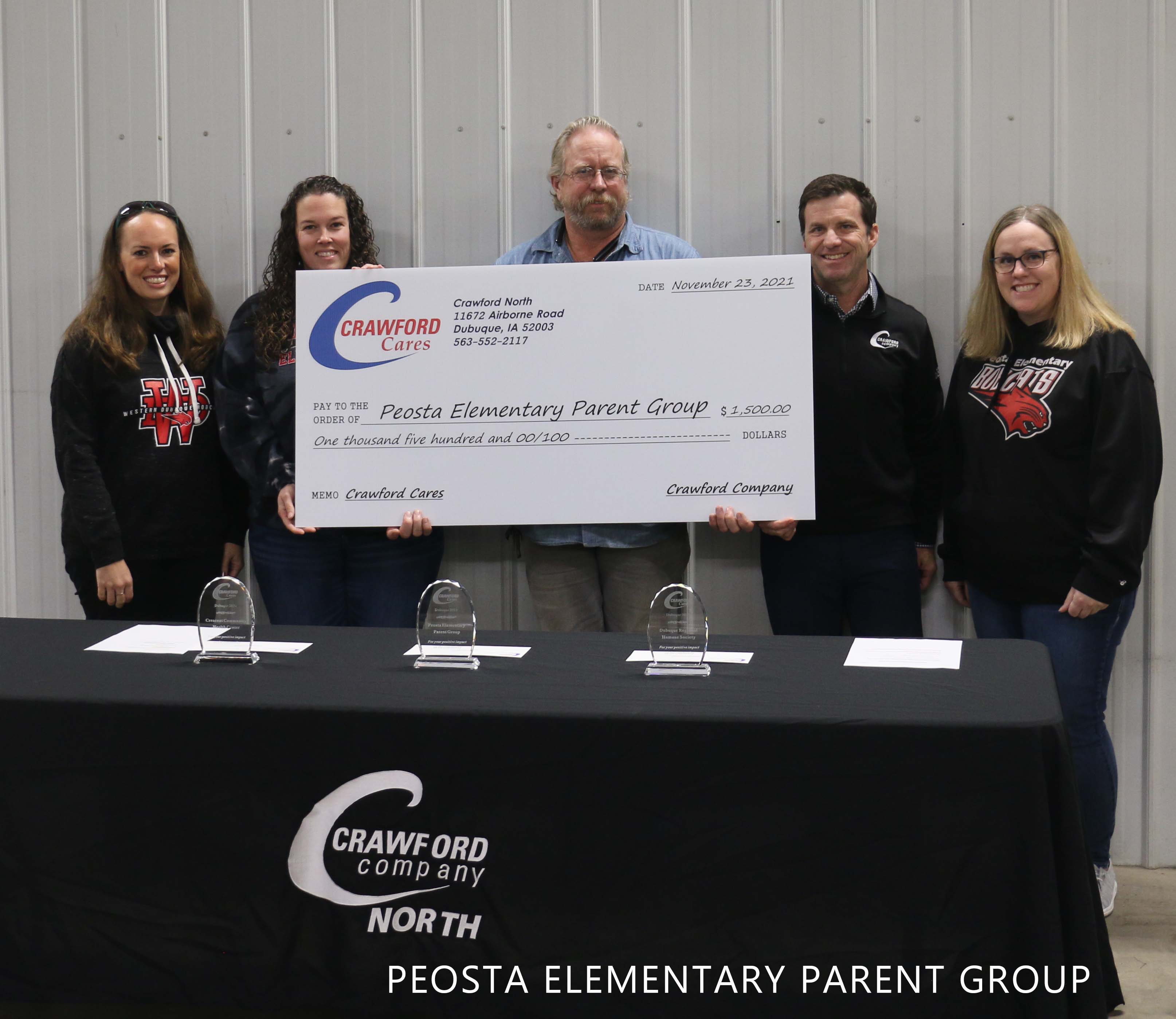 DUBUQUE, IA – For the eighth year in a row, Crawford North, a division of Crawford Company, has honored nonprofits dedicated to service and making a positive impact in the region. Since 2014, Crawford has awarded $13,500 to nonprofits serving Dubuque and surrounding communities.
The 2021 overall Crawford Cares winner is Peosta Elementary Parent Group, while the runners up are Crescent Community Health Center and Dubuque Regional Humane Society.
Eight area nonprofit organizations were nominated through the Crawford Cares Program and just over 900 votes were cast. The three nonprofits to receive the most votes qualified as finalists and moved onto judging.
All judging was done by an impartial team not employed by Crawford Company. The overall winner received a $1,500 donation, presented Crawford North. The two runners up each received a donation in the amount of $500.
The overall winner was announced and finalists recognized during an awards ceremony held at Crawford North. To be eligible, the nominees had to be a Dubuque area 501(c)3 organization, have a Board of Directors and be nominated by a local resident. All nominees had to serve local causes for the purpose of having a positive impact on the region. The organizations were also required to demonstrate they were mission-focused and operating on limited resources.
Summary of the 2021 Crawford Cares Winners:
Peosta Elementary Parent Group (PEP)
PEP was created to be a support system for the administration, teachers and staff of Peosta Elementary. The PEP exists to support the education of our children and provide additional resources to promote academic excellence over and above what the school district provides. This year we have a goal to raise $100,000 to upgrade the playground to be more handicap accessible for the students and community
Crescent Community Health Center
Crescent Community Health Center is a local medical and dental clinic providing primary medical and oral health care. Crescent Community Health Center opened its doors in October of 2006. Founded by a group of dedicated board members, made up of the community who identified the need for primary medical and dental care for underserved populations. Since then, Crescent has been providing primary and preventative care to the members of our community. Our philosophy is to make you, the patient, the center of care and a partner in your treatment. Crescent Community Health Center serves anyone needing a medical and/or dental home. We can serve people of any age, from any region, with almost any type of insurance or no insurance at all. Our focus is providing primary care to patients and providing referrals to community providers for specialty care. We continue to accept new patients on a daily basis.
Dubuque Regional Humane Society (DRHS)
DRHS is so much more than an animal shelter. It is an animal resource center that delivers upon the mission of protecting and promoting the well-being of companion animals by building lifelong bonds between pets and people through adoption, humane education, community outreach, and the prevention of cruelty. Operating as a 501(c)3 nonprofit, open admission, no-kill shelter the DRHS provides critical medical and behavioral interventions and compassionate care for over 2,900 animals annually that are lost, abandoned, surrendered by owners, or rescued from neglect. Our commitment, in tandem with our community, which spans three counties in three states and backs our mission, creates pathways to new homes and brighter futures for 100% of the healthy, safe and treatable animals in our care.
There were five additional nonprofits nominated – They include:
Area Residential Care
Inspiration Stables
Mindful Minutes for Schools
Project Rooted
UW-Platteville Foundation
2020 Winners:
Winner – St. Mark Youth Enrichment
Runners-up- Whispurring Hope Animal Rescue and Dubuque Youth Hockey Association
2019 Winners:
Winner – Dubuque Regional Humane Society
Runners-up- Hills & Dales and Boy Scouts of America- Northeast Iowa Council
2018 Winners:
Winner – New Vienna/Luxemburg Fire Department
Runners-up- Ski Bellevue Water Ski Show Team and Dubuque County Historical Society and National Mississippi River Museum and Aquarium
2017 Winners:
Winner – Live Like Jack
Runners-up- Scholastic Engineering Research (SERI) and New Vienna Tractor Pullers
2016 Winners:
Winner- Special Spaces Dubuque
Runners-up- Loras College Dance Marathon and Research for the Kids
2015 Winners:
Winner- Dubuque Tri-State Share
Runners-up- Hills & Dales and Shalom Spirituality Center
2014 Winners:
Winner- Hospice of Dubuque
Runners-up- Shalom Spirituality Center and Dubuque Lutheran Schools