Two by Two Character Development Recognized as 2022 Crawford Cares Winner
December 1, 2022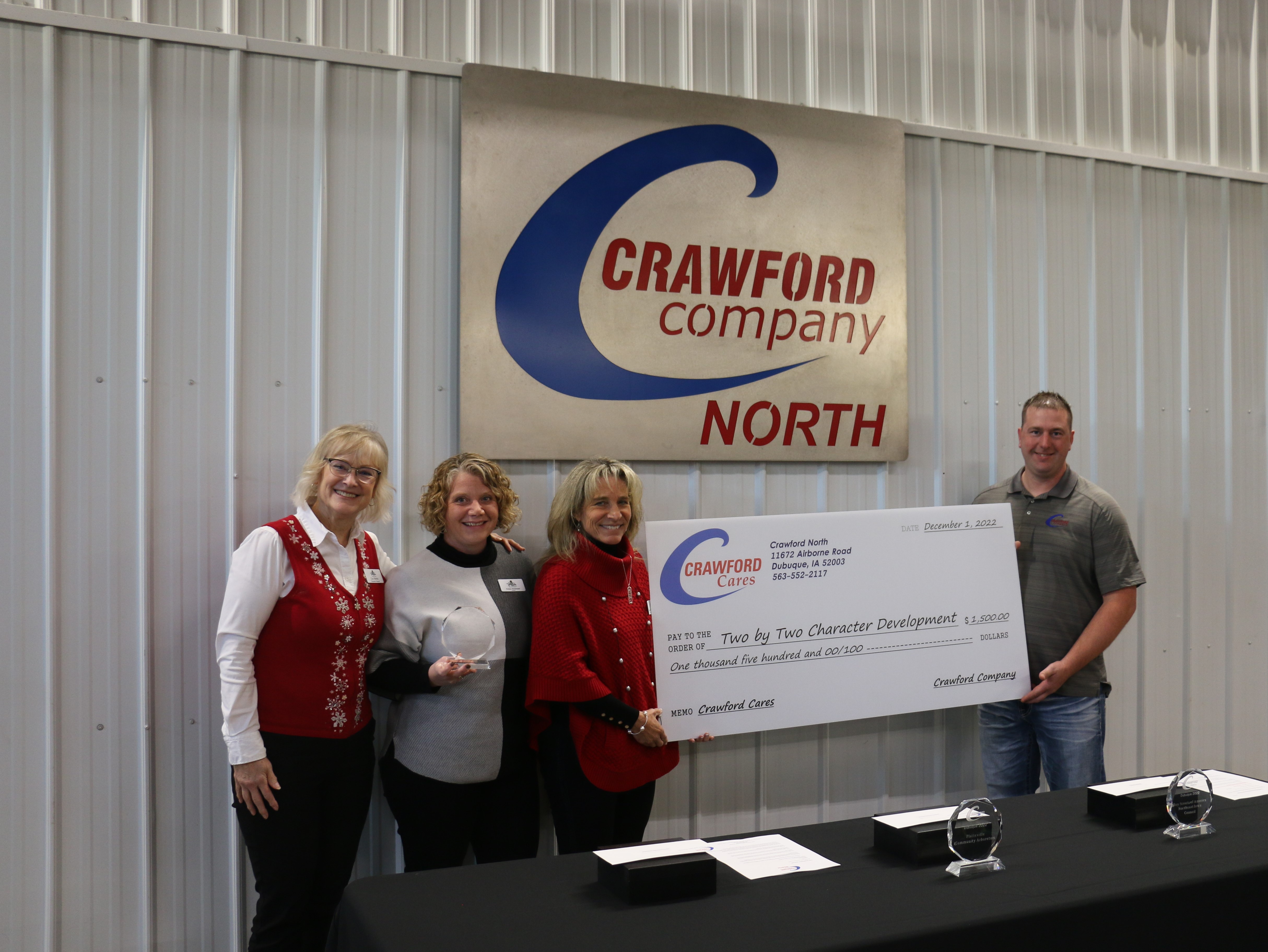 DUBUQUE, IA - For the ninth year in a row, Crawford North, a division of Crawford Company, has honored nonprofits dedicated to service and making a positive impact in the region. Since 2014, Crawford has awarded $16,000 to nonprofits serving Dubuque and surrounding communities.
The 2022 overall Crawford Cares winner is Two by Two Character Development, while the runners up are Boy Scouts of America- Northeast Iowa Council and Platteville Community Arboretum.
Nine area nonprofit organizations were nominated through the Crawford Cares Program and over 800 votes were cast. The three nonprofits to receive the most votes qualified as finalists and moved onto judging.
All judging was done by an impartial team not employed by Crawford Company. The overall winner received a $1,500 donation, presented by Crawford North. The two runners up each received a donation in the amount of $500.
The overall winner was announced and finalists recognized during an awards ceremony held at Crawford North. To be eligible, the nominees had to be a Dubuque area 501(c)3 organization, have a Board of Directors and be nominated by a local resident. All nominees had to serve local causes for the purpose of having a positive impact on the region. The organizations were also required to demonstrate they were mission-focused and operating on limited resources.
Summary of the 2022 Crawford Cares Winners:
Two by Two Character Development develops responsible citizens of strong character who care for, respect and appreciate people, animals and the environment. Two by Two has created a number of powerful social-emotional learning curricula for elementary students to help them learn about Kindness, Respect, Responsibility, Empathy, Cooperation, Fairness, Perseverance and Citizenship. Their programs are unique in that they use a child's natural love of animals as a catalyst for learning. Two by Two provides programs like Kindhearted Kids (ages 7-9) and Kindhearted Kids to the Rescue (ages 9-11) to Dubuque Schools (both public and parochial) at no cost to them.

Boy Scouts of America- Northeast Iowa Council proudly serves more than 1,200 youth in Allamakee, Clayton, Delaware and Dubuque counties in Iowa and Joe Daviess County, Illinois. The Northeast Iowa Council prepares male and female youth to make ethical and moral choices throughout their lifetimes by instilling in them the values of the Boy Scout Oath & Law. The aims of Scouting are: Leadership, Development, Participating Citizenship, Personal Fitness and Character Development. The methods of Scouting are: Ideals, Patrols, Outdoor Programs, Advancement, Association with Adults, Personal Growth, Leadership Development and Uniform. Youth are invited to take part in the fun and adventure that will help them build the confidence to find and forge a path to their own best self - today and in the future.

Platteville Community Arboretum is a nonprofit organization with over 150 members. The PCA is a community effort, as all activities, projects and maintenance are fully supported by community, volunteers, donations and memberships. Their mission is to connect the Platteville community to the Rountree Branch Trail, through recreation, conservation and environmental education.

There were six additional nonprofits nominated – They include:
Area Residential Care
Inspiration Stables
Mindful Minutes for Schools
Resources Unite
The Bell Tower Theater
UW-Platteville Foundation