New Vienna/Luxemburg Fire Department Recognized as 2018 Crawford Cares Winner
November 14, 2018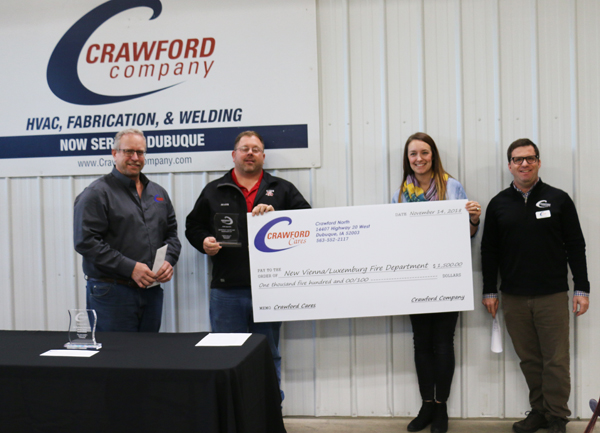 DUBUQUE, IA – For the fifth year in a row, Crawford North, a division of Crawford Company, has awarded a total of $2,500.00 to three nonprofits dedicated to service and making a positive impact in the region.
The 2018 overall Crawford Cares winner was New Vienna/Luxemburg Fire Department, while the runners up were Ski Bellevue Water Ski Show Team Association and Dubuque County Historical Society and National Mississippi River Museum & Aquarium.
Twenty-four area nonprofit organizations were nominated through the Crawford Cares Program and over 1,200 votes were cast. Finalists were chosen from entries nominated by Dubuque region residents.
All judging was done by an impartial team not employed by Crawford Company. The overall winner received a $1,500.00 donation, presented by the Dubuque Region Manager Jack Koetz. The two runners up each received a donation in the amount of $500.00.
The overall winner was announced and finalists recognized at the Crawford Cares Awards Ceremony held Wednesday at Crawford North at 14407 Highway 20 West, Dubuque, IA. To be eligible, the nominees had to be a Dubuque area 501(c)3 organization, have a Board of Directors and be nominated by a local resident. All nominees had to serve local causes for the purpose of having a positive impact on the region. The organizations were also required to demonstrate they were mission-focused and operating on limited resources.
Summary of the 2018 Crawford Cares Winners:
New Vienna/Luxemburg Fire Department
The New Vienna/Luxemburg Fire Department is an all-volunteer Fire Department. We have 30 members. We do fire suppression, fire prevention, search and rescue and also operate as an E.M.T. non-transport first responder unit. We have a main station located in New Vienna and a substation located in Luxemburg.
Ski Bellevue Water Ski Show Team Association
The Ski Bellevue Water Ski Show Team is an all-volunteer, non-profit organization that performs free water ski shows for the community of Bellevue. We are one of only four water ski show teams in Iowa, and the only one to perform on the Mississippi River! We perform annually for the Bellevue Heritage Day Celebration and, most recently, for the Island City Days in Sabula, Iowa. We teach water skiing and safe boating techniques to members and the general public. Through the years, hundreds of kids and adults have learned to water ski and have performed with Ski Bellevue. Our members learn teamwork, confidence and safety on the river. The veterans of the team say they love working with the kids, as well as providing fun, family entertainment for our community. Ski Bellevue consists of 30 or so members, ranging in age from 6 to 60. Our water skiers perform acts such as pyramids, ballet line, barefooting, strap doubles, conventionals, etc. Other members drive and observe in the boats, assist with ropes, and many other support activities!
Dubuque County Historical Society and National Mississippi River Museum & Aquarium
The mission of the Dubuque County Historical Society (DCHS) and its National Mississippi River Museum & Aquarium is to inspire stewardship by creating educational experiences where history and rivers come alive. Dedicated to exploring life of the Mississippi River and the rivers of America and their global connections, the Museum & Aquarium makes this true through a purposeful array of exhibits, educational programs, outreach activities, and advocacy. Through this work, their vision is to become the world's leader in interpreting and protecting the life, history and culture of our rivers, and to create a more global, knowledgeable, and engaged citizen.
There were twenty-one additional non-profits nominated – They include:
Area Residential Care
Camp Albrecht Acres
Clarity Clinic
Compass to Care Childhood Cancer Foundation
Crescent Community Health Center
Dubuque Area Labor-Management Council
Dubuque Regional Humane Society
Dubuque Rescue Mission Thrift Stores
Hillcrest Family Services
Hills and Dales Child Development Center
Inspiration Stables
Junior Achievement of the Heartland
Key City Creative Center
Northeast Iowa Area Agency on Aging
Operation: New View Community Action Agency
Resources Unite
Run4Troops
St. Mark Youth Enrichment
The S.O.U.R.C.E.
The Workshop
Whispurring Hope Animal Rescue
2017 Winners:
1st Place Live Like Jack
2nd Place Scholastic Engineering Research
3rd Place New Vienna Tractor Pullers Association
2016 Winners:
1st Place Special Spaces Dubuque
2nd Place Loras College Dance Marathon
3rd Place Research for the Kids
2015 Winners:
1st Place Dubuque Tri-State Share
2nd Place Hills and Dales Child Development Center
3rd Place Shalom Spirituality Center
2014 Winners:
1st Place Hospice of Dubuque
2nd Place Shalom Spirituality Center
3rd Place Dubuque Lutheran Schools