St. Mark Youth Enrichment Recognized as 2020 Crawford Cares Winner
November 18, 2020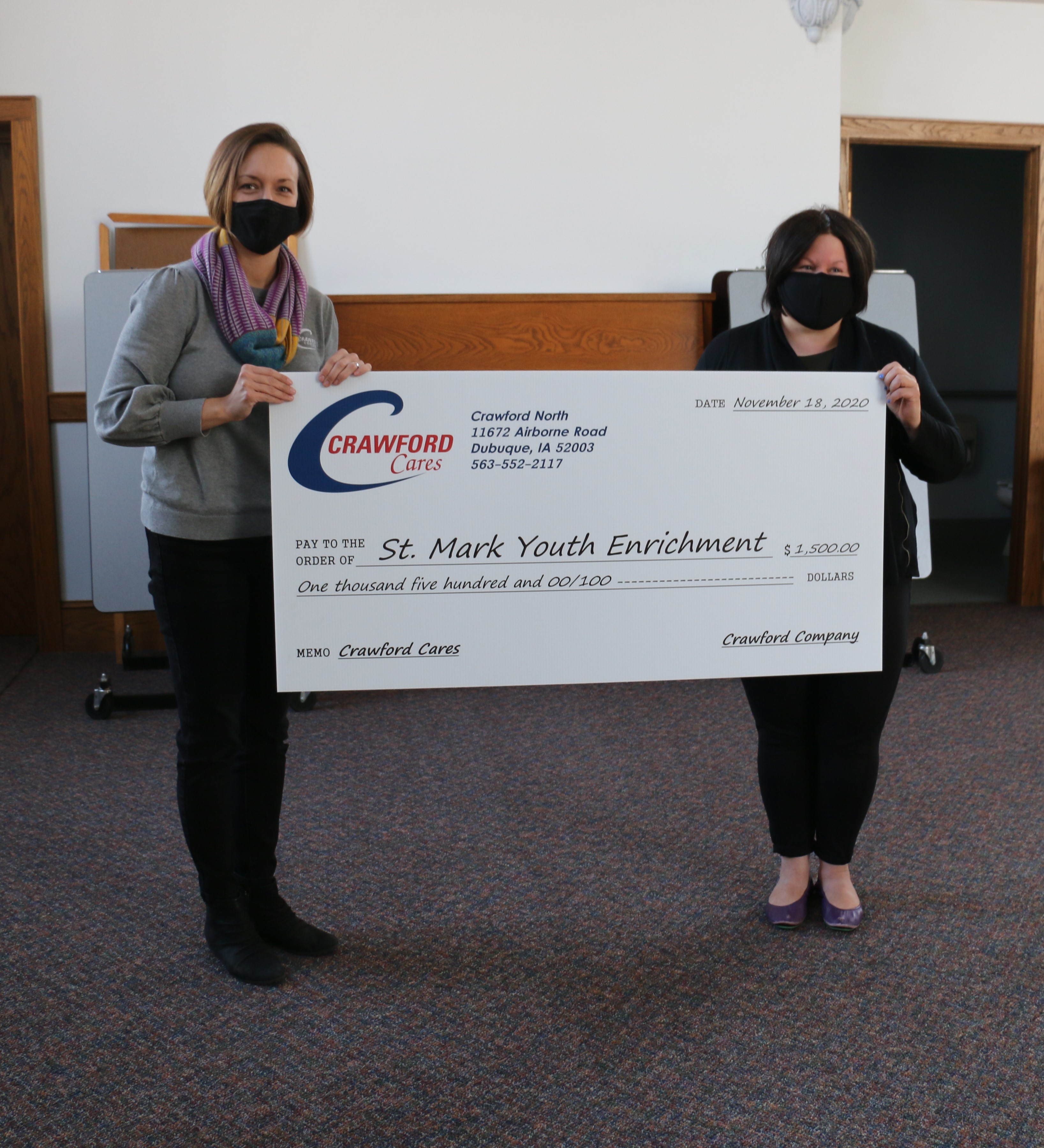 DUBUQUE, IA – For the seventh year in a row, Crawford North, a division of Crawford Company, has honored nonprofits dedicated to service and making a positive impact in the region. Since 2014, Crawford has awarded $11,000 to nonprofits serving Dubuque and surrounding communities.
The 2020 overall Crawford Cares winner is St. Mark Youth Enrichment, while the runners up were Whispurring Hope Animal Rescue and Dubuque Youth Hockey Association.
Fifteen area nonprofit organizations were nominated through the Crawford Cares Program and just under 1,300 votes were cast. Finalists were chosen from entries nominated by Dubuque region residents.
All judging was done by an impartial team not employed by Crawford Company. The overall winner received a $1,500 donation, presented Crawford North. The two runners up each received a donation in the amount of $500.
The overall winner was announced and finalists recognized during in-person visits with each of the nonprofit organizations. To be eligible, the nominees had to be a Dubuque area 501(c)3 organization, have a Board of Directors and be nominated by a local resident. All nominees had to serve local causes for the purpose of having a positive impact on the region. The organizations were also required to demonstrate they were mission-focused and operating on limited resources.
Summary of 2020 Crawford Cares Winners:
St. Mark Youth Enrichment
The mission of St. Mark Youth Enrichment is to provide innovative programs and services that cultivate the educational and social-emotional growth of youth and families. St. Mark Youth Enrichment (formerly St. Mark Community Center) is a non-profit organization that has served the Dubuque Community for 30 years. We provide before and after school programming in four of the Title 1 elementary schools in the Dubuque Community School District. As well as providing before and after school programs in Dyersville and Peosta.
Whispurring Hope Animal Rescue
Our mission is to help animals that are lost, abandoned, abused, sick, injured or simply just can't survive on their own. We strive to help in any way we can. We also work to help educate the public about the importance of spay/neuter and the proper care of animals. We rely heavily on volunteers and fosters. We believe animals should be housed in a home with a loving family whenever possible over being in a shelter or kennel situation. Our staff, volunteers, fosters & vets work endlessly to do everything possible to give each and every animal that comes through our doors the love and care they need to properly adjust into a new home and have a long, healthy life.
Dubuque Youth Hockey Association
Organized in 1979, the Dubuque Youth Hockey Association (DYHA) was formed as a nonprofit, volunteer organization to benefit the youth in our community. Learning the skills to play the game of hockey is the focus, but not the sole purpose of this organization. Youth development is our goal and our motto is "Keep kids out of hot water, put them on ice". The DYHA is guided by a board of directors elected by the membership and is sanctioned by USA Hockey.
There were twelve additional nonprofits nominated – They include:
ARK Advocates
Area Residential Care
Fountain of Youth
Friends of the Mines of Spain
Goodwill Industries of Northeast Iowa, Inc.
Inspiration Stables
Junior Achievement of the Heartland
March of Dimes
Naphtali's Tribe
New Vienna-Luxemburg Fire Department
Riverview Center
Victim Services Shelter (Dubuque YMCA)
2019 Winners:
Winner – Dubuque Regional Humane Society
Runners-up- Hills & Dales and Boy Scouts of America- Northeast Iowa Council
2018 Winners:
Winner – New Vienna/Luxemburg Fire Department
Runners-up- Ski Bellevue Water Ski Show Team and Dubuque County Historical Society
and National Mississippi River Museum and Aquarium
2017 Winners:
Winner – Live Like Jack
Runners-up- Scholastic Engineering Research (SERI) and New Vienna Tractor Pullers
2016 Winners:
Winner- Special Spaces Dubuque
Runners-up- Loras College Dance Marathon and Research for the Kids
2015 Winners:
Winner- Dubuque Tri-State Share
Runners-up- Hills & Dales and Shalom Spirituality Center
2014 Winners:
Winner- Hospice of Dubuque
Runners-up- Shalom Spirituality Center and Dubuque Lutheran Schools